About Ballet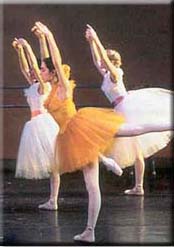 Ballet is the form of classical dance that is based on the 5 positions of the feet. The language of Ballet is French, but this form of art began its development in the Italian Court during the 16th century as part of the Renaissance of culture. Then it spread and developed in France and other parts of Europe, achieving its greatest as well as its most eclectic dimension in Czarist Russia.
The ballet was given more importance in France during the reign of Louis 14, who was a participant in the dances himself. He founded a school of classical ballet and subsequently the official language of this art that became French.
Advantages of the studying Ballet
1. Musicality
2. Grace
3. Proper development of bone structure and muscles for posture.
4. Aplomb(pride and sense of one's identity)
5. Expression of oneself through art
6. Soul graces(sharing and helpfulness)
Ballet Language
Vocabulary must be learned for the steps
1. The 5 basic positions of the foot, croisses and effaces.
2. The 3 positions of the arms and preparatory
3. Attitude – Front or back where 1 leg is extended and bend at the knee
4. Arabesque – leg is extended back
5. Adagio – On exercise with slow dance or barre work
6. Port de Bras is the use of the upper in different positions using the arms and change the height of the body in space.